List your holiday home
today
Renting out your caravan has never been easier with UKCaravans4Hire! We receive over 3 million website visitors each year searching for their next holiday.
Pay nothing until your first booking
65% increase in bookings in the last 2 months *
Over £10m worth of bookings made in the last year
Highly competitive commission rate of just 10% + VAT
Register today
Already have an account? Sign in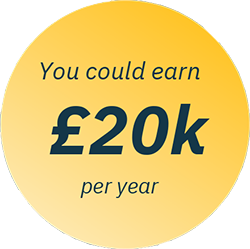 * November & December 2022 compared to November & December 2021
What do our owners think?
I have been advertising with ukcaravans4hire for about 10 years now, with virtually 100% sellout. Their communication is excellent and they listen to new ideas. I have received lots of calls from their rivals but I never take up as I am nearly always fully booked and gets lots of repeat bookings. Good value too.

Philip
Listing since 21/05/2011
Easy to use, reasonably priced and many good bookings received. Only website I use, no need to list elsewhere more than happy with booking results.

Wayne
Listing since 16/12/2012
As an owner it's a must that the website is 100% safe and professional. There have been major improvements to the website to make it very user friendly for both owners and holiday makers. It is by far the best website for privately owned caravan rentals.

Alison
Listing since 16/12/2012
Why should I rent my caravan with
UKcaravans4hire

We market to a customer database of over 200,000 subscribers

No yearly subscription costs, so we only get paid when you do

Make over 40 bookings a year with leading booking technology

We'll cover the cost of a year's NACO membership

Maximise income when leasing a caravan and compare prices with similar properties in the area

Trusted online system that vets customers to minimise fraud
Please note: These offers are subject to change from time to time.
Request info
Not sure what's best for you and your holiday home?
Get in touch and we can help you through the process of hiring out your holiday home.