Advertise caravan for hire
List your static caravan or holiday lodge for hire on our website and let us help you secure bookings. We receive millions of visitors a year from people wanting to rent holiday accommodation just like yours.
Advertise your static caravan or holiday lodge for just £99 £75 per year.
Already have an account? Sign in
Choose your listing option
Features
Standard listing
Standard listing +
booking platform
Descriptive text
Add all the information you want
Up to 20 photos
Showcase your holiday home
Availability
You control availability and prices
Review system
Collect reviews from guests
Receive enquiries
Deal direct with guests
Optional features
Owner bio and much more..
Online payments
Allow guests to pay using credit/debit card
Instant reservation
Allow guests to make a provisional booking
Payment protection
Guest payments are protected
Annual fee
One simple price. No hidden costs.
£75
£75
Register
Register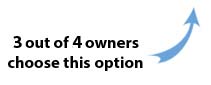 Why advertise with ukcaravans4hire
With over 10 years experience in helping static caravan and holiday lodge owners rent out their holiday homes we understand what owners and guests want. We're here to support you while you keep full control of your bookings.
We recommend choosing the standard listing + online payments option to get the maximum benefit from your listing. In a recent survey 73% of our website visitors told us an online booking option increased trust and 91% preferred card payments rather than having to arrange bank transfers.
Once registered you can manage your listing and any bookings from within the owner portal. If you choose to accept online payments we will take care of all guest payments anytime you receive an online booking and it won't cost you anything extra. A small service fee is charged to guests to cover our costs.
It really is that simple. You remain in control at all times and we're here to help when needed.
Request info
Not sure what's best for you and your holiday home?
Get in touch and we can help you through the process of hiring out your holiday home.
Advertise your holiday home
Earn an extra income by letting out your static caravan or holiday lodge.
Use the money to pay site fees, upgrade your holiday home or why not treat yourself!
The reviews below show why we are trusted to help secure bookings for over 6,000 holiday homes.